"David has enabled me to create clear, impactful presentations and deliver them in a very engaging way that connects with my audience. The results for my career and my business, and what I'm able to motivate people to do, have been simply phenomenal!"
– Chuck Raup, President, US, The Hershey Company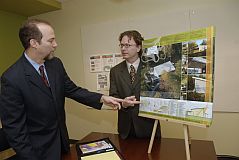 Private coaching sessions are designed for presenters at all skill levels, take on many different formats and durations, and may be conducted at your office or ours or via online meetings.
We take the time to truly understand what is important to you and how we can measure and monitor your success. If appropriate, we'll review previously recorded presentations, utilize online assessments to identify your perceived communication strengths and weaknesses, and, with your permission, solicit feedback from your selected colleagues about your communication effectiveness.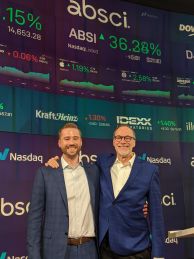 Because the time is dedicated solely to you in our private sessions, you'll have the opportunity to polish all the details that can make all the difference. We'll build upon your natural strengths and personality so that you excel quickly and comfortably.
Typically, the first time we meet you'll deliver a brief presentation and receive an honest and constructive assessment of your skills. Through strategic planning, demonstrations, simulations, and award-winning real-world-tested coaching, you'll gain precisely what you need to build your toolkit for great presentations. If you have an important upcoming presentation, we'll guide you every step of the way as needed, from brainstorming to outlining to wordsmithing to final rehearsal. We'll also review and critique presentations or rehearsals that you record where you have implemented strategies from your coaching.
When working online, we usually meet once a week or every other week for about an hour. If you have a fast-approaching presentation, we can schedule your sessions closer together and extend the duration of the sessions. We'll conclude each session with a personal action plan and reasonable homework. We also welcome your contacting us for "just-in-time" quick advice for critical situations.
To reinforce and continue your learning, you'll receive video recordings of your sessions, our proprietary presentation and message planners, numerous high-impact tips and techniques sheets, wallet reminder cards, David's best-selling books: Simply Speaking!® The No-Sweat Way to Prepare and Deliver Presentations, How to Avoid Death by PowerPoint!™, and How to Conduct Incredibly Productive Meetings, as well as a subscription to the Simply Speaking!® high-impact presentation strategies newsletter.
Some of the areas frequently covered include how to: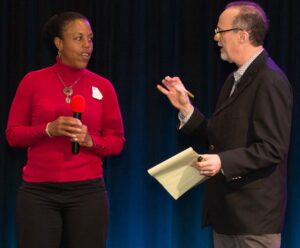 Present like a pro — in-person, by phone, or online, prepared, or impromptu
Appear confident, competent, and credible in front of any group
Capture and maintain the attention and interest of your listeners
Craft and convey messages that are clear, concise, and compelling –
for prepared formal events and casual impromptu meetings
Organize material for best flow and maximum impact
Read your audience, speak to their needs, and adjust if necessary
Spice-up potentially dull topics and get rid of "boring"
Provide the right content, not a data dump
Share stories that pull-in listeners, connect, and captivate
Integrate appropriate humor to drive home serious points
Think quickly on your feet and look calm under pressure
Master Q&A sessions and win-over tough audiences
Incorporate effective visual aids and avoid Death by PowerPoint™
Eliminate "ums," "ahs," "you knows" and other distracting habits
Speak with a voice of authority and exude commanding executive presence
Engage, inspire, inform, and influence with resounding success
Increase sales – Forget your title, we're all in sales™
Contact us and let's have a conversation about your needs and how we can help you.